Chocolate depositing machine is a special equipment for producing small particles of chocolate. The equipment can produce both drop-shaped chocolate particles and button-shaped chocolate particles. The particle size is adjustable from 2-18mm.
The chocolate liquid drops directly on the PU conveyor belt and enters the cooling channel for cooling. According to the action of the roller under the conveyor belt, the chocolate particles automatically fall down. Advantages of this machine: accurate control, simple operation, wide application and large production capacity.
Advantage
SUS304 stainless steel

OEM/ODM acceptable

Servo-driven disposable pouring machine

PLC control

High production capacity: up to 25 molds/min.

Remote monitoring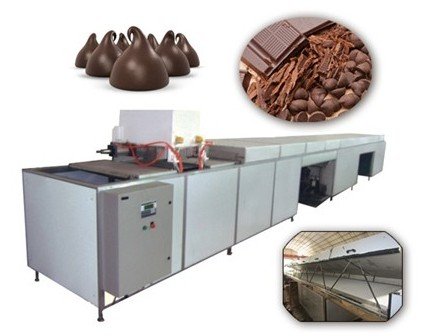 ---
Technical data:
| | | | | | |
| --- | --- | --- | --- | --- | --- |
| Technical Parameters | QDJ400 | QDJ600 | QDJ800 | QDJ1000 | QDJ1200 |
| Product name | chocolate spoon machine | Chocolate dipping machine | cash machine | chocolate depositing machine | chocolate spoon machine |
| Application industry | chocolate machinery | chocolate equipment | chocolate machine | Food Machinery | Food Machinery |
| Conveyor belt width (mm) | 400 | 600 | 800 | 1000 | 1200 |
| Pouring speed (times/minute) | 0-20 | 0-20 | 0-20 | 0-20 | 0-20 |
| Single grain weight (g) | 0.1-3 | 0.1-3 | 0.1-3 | 0.1-3 | 0.1-3 |
| Cooling tunnel temperature (℃) | 0-10 | 0-10 | 0-10 | 0-10 | 0-10 |
| Machine length (m) | 10-30day | 10-30day | 10-30day | 10-30day | 10-30day |
Melesun chocolate depositing machine: a chocolate production equipment integrating high efficiency, precision and intelligence
As a world-renowned food, chocolate has a sophisticated and complex production process. To realize large-scale automatic chocolate production, advanced pouring equipment is essential. Melesun company has been focusing on chocolate machinery manufacturing for many years, and its newly developed chocolate depositing machine has become the best solution for the automatic production of chocolate industry.
▲ Using SUS304 stainless steel, in line with food-grade standards
Melesun Chocolate Depositor has carefully considered hygiene and durability in its appearance design. The body shell is made of SUS304 stainless steel, which is not only anti-corrosion and easy to clean, but also fully complies with food-grade hygiene standards to ensure the hygiene and safety of chocolate production. Compared with ordinary carbon steel, SUS304 steel is stronger and more durable, and can withstand long-term use in industrial production environments. This provides a reliable high-quality equipment for the chocolate factory.
▲ Modular design is convenient for transportation and installation
Melesun chocolate depositing machine adopts modular design and assembly, and different functional units are combined by bolt connection. This design makes it easy to transport and install, and customers can make flexible combinations according to the actual factory environment, which not only saves space, but also facilitates handling. Modular assembly also makes maintenance quicker and easier.
▲ Servo motor drive realizes high-precision pouring
Melesun chocolate depositing machine adopts advanced servo motor drive system, which replaces the traditional pneumatic pouring method. The servo motor can precisely control the speed and torque, so as to realize the high-speed and high-precision chocolate pouring process. Compared with the pneumatic system, the motor-driven action is more stable, accurate, more efficient, and greatly reduces the amount of maintenance. Combined with the optimization of control system parameters, the entire pouring process has achieved extreme stability and precision.
▲ PLC control Parameters precise adjustment
Melesun chocolate depositing machine is equipped with advanced PLC programmed control system. PLC can be programmed to realize the precise adjustment of various pouring parameters, such as pouring speed, timing, temperature, pouring head position, etc. Workers only need to simply set and optimize these parameters through the touch screen to realize the automatic production of different products. In contrast, the traditional control method requires manual operation and frequent debugging, and the efficiency is low. The PLC system not only improves the degree of automation, but also minimizes human errors.
▲ Efficient production capacity 25 molds/minute
With the help of servo motor and PLC intelligent control, Melesun Chocolate Depositor achieves extremely high productivity per unit time. In terms of pouring speed, the output can reach up to 25 molds/minute, far exceeding the same type of equipment. The high-speed and stable pouring rate ensures the chocolate output per unit time, which is of great significance to medium and large chocolate production enterprises pursuing high efficiency.
▲ Touch screen operation parameter optimization
Melesun chocolate depositing machine is equipped with FULL TOUCH large-screen touch operation interface, workers can monitor various parameters and production status very intuitively. At the same time, the touch screen also makes parameter optimization very convenient. Through graphical human-computer interaction, workers can quickly and accurately adjust and store the temperature, rate and other parameters of the pouring process according to different product specifications and quality requirements, and realize flexible small-batch production.
▲ Quick mold change
Melesun Chocolate Depositing Machine has a quick mold change function, which can complete the mold change within 10 minutes, which greatly improves the flexibility of the machine. For small workshops that often need to change different shapes of chocolate or factories producing multiple varieties, the quick mold change system can reduce the time cost of product switching, thereby obtaining higher productivity benefits.
▲ Automatic cleaning
The pouring machine is equipped with an automatic cleaning function, the user only needs to set the program, and the system can perform self-cleaning on a regular basis. The high-pressure water spray combined with the automatic cleaning of the cleaning liquid can not only completely remove the residual chocolate material in the machine, but also greatly reduce the cleaning labor intensity of the workers, reduce the cleaning time, and improve the hygiene level.
▲ Remote monitoring
With the help of the communication module built in the machine, the user can realize the remote monitoring of the chocolate depositing machine. This function enables the entire production process to be unattended and reduces labor costs. Users can check the working status and production parameters of the machine at any time, and if there is an abnormality, they can be informed and adjusted in time to ensure the output and quality.
▲ OEM/ODM customized design
Melesun not only provides complete standardized chocolate depositing machines, but also provides OEM/ODM customized design solutions according to specific needs of customers. Whether adjusting the size of the machine or developing a special mold according to the product, Melesun has the ability to provide personalized customized machines. This meets the flexible needs of different customers.